Instead of writing some boring guff about why I'm writing this boring guff about eight months too late that nobody will read anyway, I'm going to go ahead and list my ten favourite albums of 2014 with a few meaningless words on why these albums are my ten favourite albums of 2014. Hope you have a whale of a time reading, lads.
10. Sky Ferreira – 'Night Time, My Time'
I know it came out in America in 2013 but us straddlers here in the UK had to wait all the way until March for the best crossover pop album of America's yesteryear, and we never even got a solo tour. Cameron's Britain.
9. Taylor Swift – '1989'
Simply perfect pop music and if you think otherwise you are almost certainly wrong.
8. Frankie Cosmos – 'Zentropy'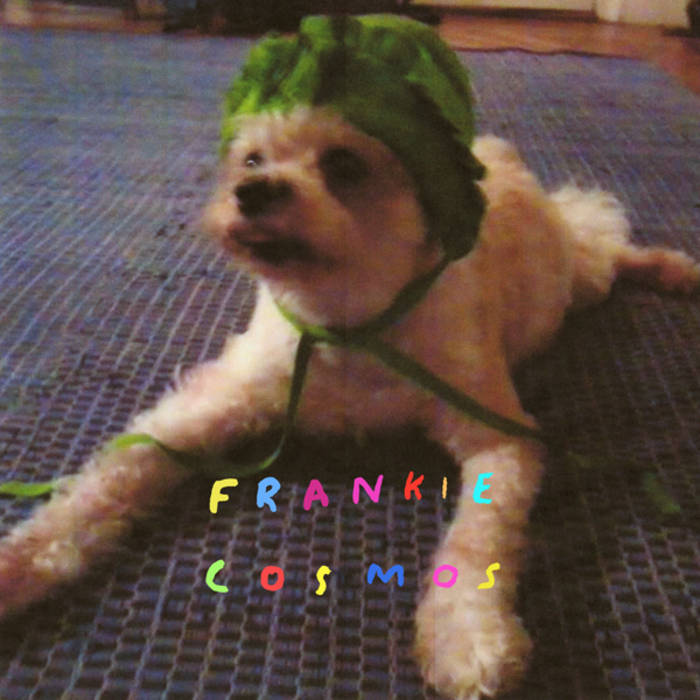 To be pretty honest with you, if you haven't already listened to this based on the strength of the cover alone, you're doing life wrong anyway and nothing I can say will ever change that, so I'll just leave a little note here instead: RIP, Joe Joe.
7. Perfume Genius – 'Too Bright'
The inverted machismo, the swaggering lyrics, the deranged synths and the angelic-cum-sluggishly-androgynous backing vocals of Queen, the submerged Lynchian gender performativity of I'm a Mother. A brilliantly transgressive album from a brilliantly transgressive artist.
6. Cheatahs – 'Cheatahs'
Unpacking the many influences behind Cheatahs' debut, right down to the 90s-indebted aesthetic of the splurging haziness of the artwork, was one of the main reasons why I began to wholly embrace and endeavour beyond the surface of shoegaze, now comfortably the genre I listen to and get lost in most, last year. You're all right by me, lads.
5. Honeyblood – 'Honeyblood'
I love Honeyblood, and the first time I saw them was supporting Courtney Barnett and the Courtney Barnetts way back in early 2013, with singer Stina sipping whiskey in between singing very good, stinging songs about scumbags. Said songs probably sound even better on record, though don't quite sting as hard: whilst unable to wholly match up to the acidic crunch of the live version of, say, All Dragged Up or Super Rat, the album (and former drummer Shona) brings a measured sense of melodic serenity and polish, ensuring they remain the best things to come out of Glasgow since Stiliyan Petrov moved to the Villa.
4. The Crookes – 'Soapbox'
I really like this gobbet that I said about this really great album back when I wrote about it in April, so I'm just going to leave it here: 'it's allusively American, but Northern Soul at heart.' Not one to blow my own trumpet, but one word: woof.
3. The Heartbreals – 'We May Yet Stand a Chance'
The chorus to Absolved, undoubtedly the album's apex and the most Heartbreaks moment in The Heartbreaks catalogue, is an absolute belter, with gloriously kitsch, Spectoresque production, and the rest on offer ain't too bad either, with the band adding punch, politics and strings to their eccentric but always essential Orange Juice-meets-Northern Soul sensibilities. God bless the band.
2. St. Vincent – 'St. Vincent'
Annie Clark is Better Than David Bowie, pass it on.
1. Alvvays – 'Alvvays'
Confession time: in a further reckless violation of list-making etiquette, I hadn't actually listened to this album in its entirety back in 2014, my only exposure to Alvvays being the occasional and very welcome nourishment of Archie, Marry Me, a small slice of wistful, c86-inspired pop majesty, either through headphones walking through the bluster and beauty of the streets of Sheffield, or blaring on speakers, alone in the dark of my bedroom, sandwiched between the endless shuffling of a Spotify playlist to pass the time. Entering the worst, most enduringly terrifying period of my life in around January, though, I stuck the album on out of something, probably boredom, trying to find meaning in something, anything, as you do, to make sense of yourself, as you do, and I genuinely haven't stopped listening since, with its inch-perfect tales of tragedy and torment, of young love and bittersweet optimism, of despair but above all a defining sense of hopefulness, basically keeping me alive on a nightly basis. I've come out of that time a different person, more rounded, more knowing of myself, and above all else, alive, and I honestly owe a huge debt to this album, and indeed this band, for that reality. They helped me realise I wasn't okay, and I would need support that music and films and literature could only partially provide, even in the simplest of metaphors like the quietly devastating opening to the second verse of Party Police, the album's lush centrepiece and, to these unlearned ears at least, the most gorgeously melancholic and most profound song I've ever had the pleasure of hearing: 'Fighting through the fog, I can't believe it rained all Summer long / When everyday's a hurricane, you know there's something wrong'. Delivered with Molly Rankin's consistently ethereal, evocative, lusciously slipping and dipping, rising and tightening vocals, it gives me goosebumps just writing those words. So, thanks Alvvays for, y'know, saving my life.
P.S. HERE'S A SPOTIFY PLAYLIST FEATURING THE BEST SONGS OF 2014 HAPPY AUGUST 2015